UNIQUE ♥ M.U.S.E
The female group MAMAMOO   just announced the release of a 'free single' before their official comeback!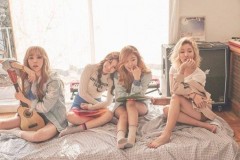 Indeed the agency RBW, announced January 26 that:
Before the release of the first full album of MAMAMOO, girls come out a free single surprise January 29. The release of the first album MAMAMOO is scheduled for the end of February.
The song will be released after seven months of waiting. The girls are currently in the last phase of preparation of their album.
There is more to wait until January 29 to discover the new title of MAMAMOO!